Fix PKG file association
PKG files are installation package files used by Mac OS based operating systems, and are executed when a user wants to install a program or software on their computer. Similar to MSI files for Windows, PKG files contain various types of information regarding software installation, such as executables, libraries, registry modification scripts and more.
All this information, in general, is contained in a single file that has as an extension the acronym PKG, which is actually a diminutive of "Package".
It is evident that to operate on a PKG file it is necessary to be running a Mac OS based operating system, which should have the PKG extension registered as compatible.
However, the PKG file extension may also be associated with files from other systems such as the Sony PlayStation console, Microsoft Visual Studio and some 3D modeling programs for both Windows and Mac.
One of the inconveniences that arise when operating PKG files is that the system does not recognize it and therefore an error appears. In MacOS X there is an interface called "Flat Package Editor", which is responsible for editing Flat package files that is a single installation file that contains all the information necessary for this purpose.
The problem begins when some third party application associates itself with openning PKG thus preventing installation process to happen. In this case when user double clicks on an installation PKG files the application which associated with it will try to open it and fail since the file is not compatible. To fix this error you should associate Installer.app with PKG file extension.
Due to a change in the directory structure in MacOS X Installer.app is located in:
Macintosh HD / System / Library / CoreServices / Installer
To fix association error option mouse click on the PKG file in question and select "Get Info" from the popup menu. Look for the "Open with" section in the dialog and select "Installer.app" from the list. To make this change permanent for all files with PKG file extension click on "Change all…" button under the list and then "Continue".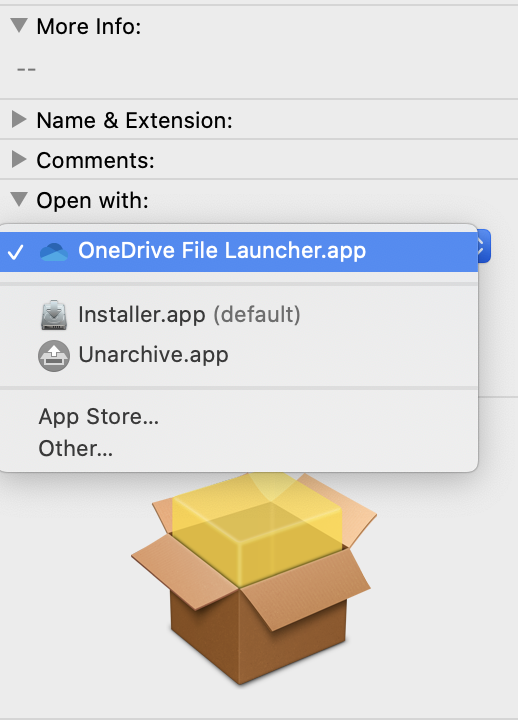 If the similar association error occurs in Windows OS, then the procedure is similar, just right click on the file, then select the option "Open with ..." and then look for the appropriate program to open the PKG file.
Below is a brief list of the appropriate programs to open PKG files:
Hamster ZIP Archiver by HamsterSoft
PrintPratic by Micro Application
HP ePrint & Share
WinRAR by win.rar GmbH
Parallels Tools Center